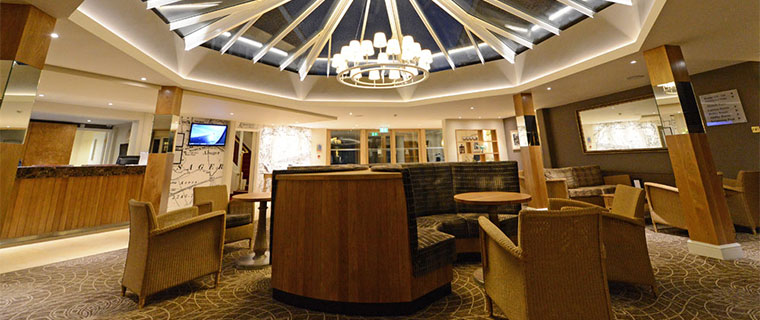 See-AV provide professional and experienced AV services across a wide range of audio visual services. Specialising in Home Cinema installations, Smart Home installations, bespoke Lighting Design and installation, Video Conferencing integration and Meeting Room integration and installations.
Based in Manchester and Knutsford Cheshire, See-AV design and install AV (audio visual) systems for both commercial and residential clients throughout the North West and the UK.
People who want the best technology rarely care how the technology works. They simply want to know that the end result is what they are looking for, so see-AV ensure that they find the best equipment available within a budget the customer is happy with, without bamboozling them with all the techno-jargon that goes with it.
See-AV have developed an encyclopaedic knowledge of the industry, and from their base in central Manchester, they have built up a nationwide network of trusted suppliers, designers, installers and engineers. See-AV only use people they would trust to work on their own houses, and having been involved in the industry for so long, they have built up solid working relationships with them.
See-AV is the Residential Audio Visual Solutions Specialist division of PV Audio Video which was formed in 2004 to develop the ever growing demand for high end residential projects.
We have been the choice of many organisations large and small to design, supply and install Commercial Audio Visual Solutions. Our many clients have included The Ministry of Defence, Universities, Student Unions, Schools, Churches, Twycross Zoo, The Royal Armouries, Smith & Nephew, Marriott Hotels along with many Health Clubs, Restaurants, Bar Operators and Retailers throughout the UK.
In 2004 See-AV began receiving enquiries from Architects, Designers and Individual Clients to design, supply and install "Smart Home Systems". As this was a relatively new proposition in the UK we where keen to be involved in the very latest in Home Control Systems from companies such as AMX, Crestron, Speakercraft and Control 4.
Our Approach
At See-AV we believe in delivering a high standard of customer service. By gaining a true understanding of customer requirements through listening is key to how we progress and only by doing this can we apply our knowledge and experience to a resulting in a design which meets or exceeds their expectations. Throughout the consultation process, we offer advice and guidance to ensure that customers get best experience from their system once it is installed, whether it is a Home Cinema System, Home Audio System or a Home Automation System.
We can provide a complete Home Automation package, or concentrate on a particular area of interest. Our specialist audio visual designers can suggest automation ideas specifically tailored to your home, or they can work closely with you to help bring your own home automation dreams to reality.
The process of generally how we operate can be found below:
Initial Contact & Consultation
In the first instance, we will arrange a home or site visit to talk through your plans and discuss overall needs in your project.
During the discussions, once we have an overall picture of what you would like to achieve, then we will prioritise and inform you of technologies which you may or may not be familiar with but that might be of interest.
At this point, we may suggest a number of potential systems/solution from our experience that may suit your requirements.
Agree a timescale in terms of getting back to you with further details on when our proposal will be complete.
Quotation and Design
A second meeting to present our designed system based around discussions from our initial meeting, presenting details to you on a system or systems based on your 'essentials, 'would like to haves' and budget.
Our proposals include a room by room breakdown with itemised costs for all equipment and installation/design services with a separate document displaying text and images describing the system components in detail.
At this point, we'll talk though the system and answer any questions which may be generated by the presentation.
You may want to absorb a lot of the information presented, so we'll arrange to talk at a later date which will also give you the opportunity to make changes and ask questions.
On Site and Installation
A site visit would be required, particularly if the house is not a new build, so that we can understand any logistical problems which may occur or may affect the designed system and or costings.
Once the finalised specification has been agreed, we will attend meeting(s) with the Project Manager to understand the schedule of works and also to identify which contractors will be coordinating with.
First Fix Installation of all cabling, (cable dependant on system specified)
Second Fix Installation of equipment (2nd fix)
Programming system to clients' requirements and a full explanation on how to operate the system.